Add Services
Services are what your business offers to clients. Once services have been added and working hours setup, clients can book with you online through Veribook. To learn more about setting up working hours, click here.
This guide will discuss how to add services to Veribook.
Table of Contents
For most businesses using Veribook to schedule appointments, services correspond to particular types of services offered by the organization.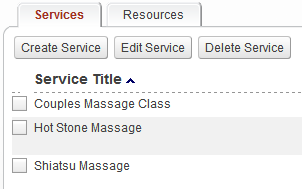 A massage therapist offering a class and two types of massage.
Each individual service may also have different types of appointments with different descriptions and duration.


A business advisor may offer advisory services with two types of appointments.
If you provide services in several locations, multiple services can be created that correspond to different locations where the services are offered:

You can also create different services for different customers: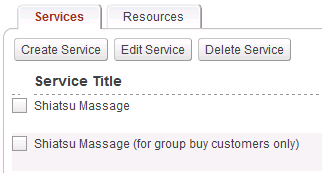 In general, organizations should consider creating multiple services (instead of creating multiple appointment types) if different services have different characteristics, such as price, location, and description.
Once the services have been created, the next step is to tell Veribook when you are available to offer particular services. To learn more about adding working hours, click here.
Login to your Veribook account.
Click on the "Setup Services" button




Check that the "Services" tab is selected




Click on the "Create Service" button




Select whether you're creating a service offered to individuals (e.g. massage therapy, consultations), or a service offered to groups (e.g. classes and seminars).




Fill in the Create Service or Create Group Service form. Information entered into the "description" field will be available to customers who request a booking.



or




Click the "Create" button
Repeat steps 4 to 7 to create additional services.
Once your services are created, don't forget to add your working hours. If you have multiple staff members or physical assets (resources), you can add multiple resources and specify working hours for each. Click here to learn about more adding resources.
Massage Clinic: Relax Massage Clinic has registered massage therapists who each specialize in different types of massage. The clinic also offers a monthly couples massage class.
To use Veribook, this clinic could create 4 services, three corresponding to a particular type of massage and with its own schedule of available booking times, and a fourth corresponding to the class.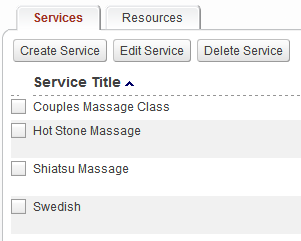 Flight School: FlyNorth Flight School has planes and part-time instructors. Licensed pilots can rent planes by the hour, and student pilots can book both a plane and an instructor for lessons.
To use Veribook, this school could add services corresponding to renting a plane, booking a plane for a lesson, and booking an instructor for a lesson. Licensed pilots may reserve only a plane, and students would need to reserve both a plane and schedule a lesson with an instructor.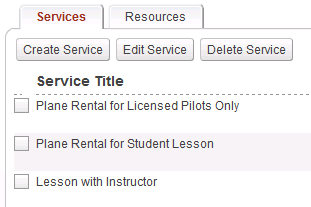 Flu Clinics: Healthy Staff Management helps companies offer their employees flu vaccinations. These sessions are customized to each company, and require different descriptions. This firm also offers regular nutrition seminars that any employee of any client may attend.
To use Veribook, this business could create individualized services for each company, and direct each company's employees to the corresponding service.